News Center
2014/10/03
Lextar's Flat Panel Light LEAFIA Wins Japan Good Design Award 2014
Lextar Electronics Corp. (TAIEX: 3698, "Lextar" or the "Company), a vertically-integrated LED company from Taiwan, debuted an ultra slim flat panel LED luminaire, LEAFIA, with a thickness of only 8mm and has been named a winner in Japan's Good Design Award 2014. This is the fourth time Lextar has received recognition from the award. Lextar will unveil LEAFIA at the Hong Kong International Lighting Fair taking place during October 27-30, 2014.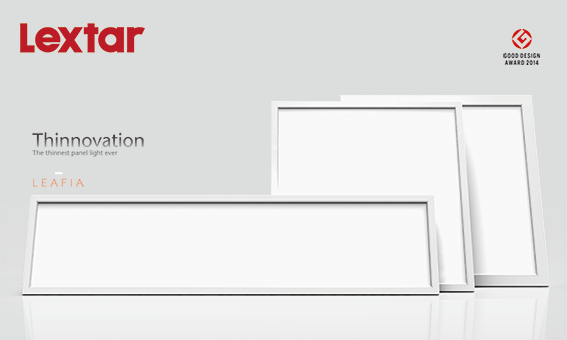 Lextar's flat panel light LEAFIA wins Japan Good Design Award 2014
LEAFIA, named after its leaf-like thinness, has broken through the barrier of luminaire. Adopting edge-lit LED technology, LEAFIA has reduced thickness by over 80% to reach 8mm, creating a sense of lightness and loftiness when hung from the ceiling. Lextar has taken its backlight technology up to a whole new level, using light guide plates with a special microstructural optical design to overcome the space constraint of mixed lighting. The result is soft, smooth lighting with ultra low glare of UGR < 19 suitable for the office or reading room. LEAFIA 's simple and low-key style helps it blend in with various types of interior design, and with its appealing seamless frame finish, LEAFIA is a work of art integrating wisdom in optics, mechanics, aesthetics, and craftsmanship, and therefore is well worth the applause by the Japan design industry.
"Given enthusiastic responses to Lextar's panel light fixtures, this time LEAFIA creates a new market of design fixtures where value innovation is raised ahead of industry, and will be marketed by European luminaire brands", said Francis Wong, the director from Lighting BU of Lextar. This prestigious Good Design award demonstrates Lextar's high capabilities of industrial design and technology development. Prior to this, Lextar's product design team has also won various recognitions including iF and Red Dot awards from Germany, IDEA from the US, Good Design Award from Japan, and domestic Taiwan Excellence and Golden Pin award, all of the mentioned lifting the values that few players in the industry offered.
Back