News Center
2014/10/27
Lextar to Debut Glass LED Tube Lineup
Lextar Electronics Corp. (TAIEX: 3698, "Lextar" or the "Company) announce the release of glass LED tube lineup, using Lextar in-house LM-80 certified LED package, featuring wide light angle, good uniformity, long life and cost competitiveness. Lextar will showcase the full series lineup at Hong Kong International Lighting Fair (Autumn Edition) starting from October 27th to 30th, 2014.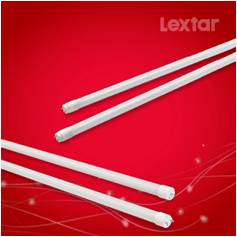 Most of glass LED tube in the market shows very competitive price, yet only few of which has reliable quality and lifetime. Lextar's newly debuted glass LED tube has economic, standard and professional series to meet various market needs, all adopting Lextar's in-house LM-80 certified LED package. With the whole glass tube design, this tube series incorporates optical and mechanical technology to realize high uniformity and wide light angle of over 320 degrees. Besides, its 40,000 hours lifetime is two times longer than most glass LED tube available in the market. Lextar is one of the top glass LED tube makers in the global lighting industry, demonstrating its capability of integrated technology, quality and manufacturing. The glass LED tube series have been shipped to European and Asian markets.
Lextar will also showcase new Fresh LED Tube especially designed for meat display in the supermarket. Thanks to Lextar's vertical integration in LED, this tube was designed from designated LED chip to package. By incorporating the selected spectrum of LED chips and LED package material, Lextar's Fresh LED Tube enhances the appearance of meat freshness and appeal, and can avoid discoloration that may cause food waste.
Hong Kong International Lighting Fair (Autumn Edition) is the largest autumn lighting exhibitions in Asia. This is the sixth showcase Lextar demonstrates the LED lighting products and technologies, and more applications are to be exhibited this year including UV and automotive application.
Back