News Center
2015/06/05
Lextar Electronics to Launch DCOB LED Light Engine
Debuting a complete series of AC-in Driver-on-Board light engine at GILE (Guangzhou International Lighting Exhibition)
Lextar Electronics Corp ("Lextar" or the "Company") (TAIEX: 3698), the LED vertical integration manufacturer, has launched a DCOB (Driver on COB) product, using Lextar's in-house high voltage Chip to design an integrated light module without an external driver, providing the most convenient plug-and-play LED light engine for the traditional lighting fixture manufacturers. Lextar presents a complete series of AC-in Driver-on-Board module at Guangzhou International Lighting Exhibition from 9th to 12th of June, 2015.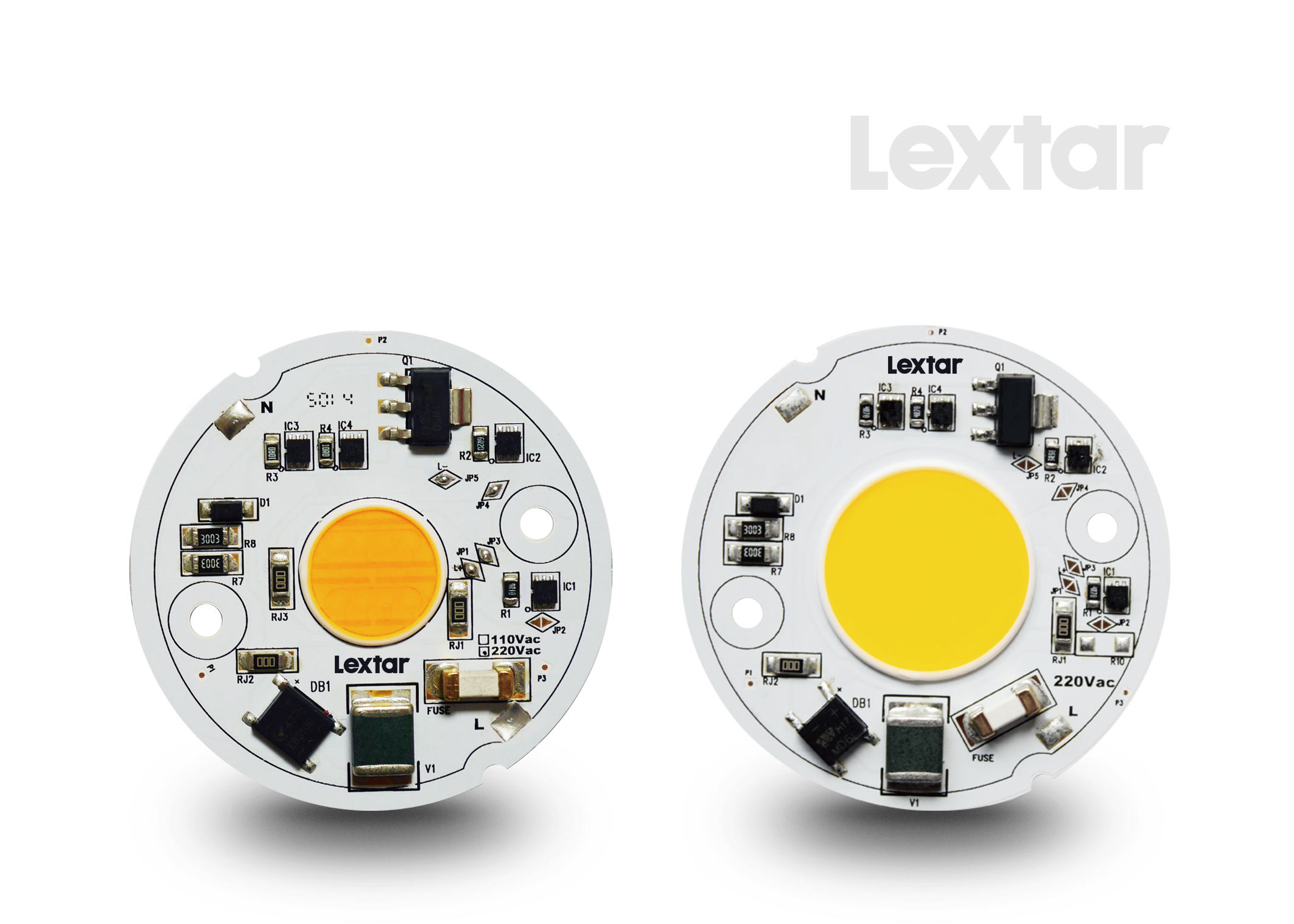 Lextar's DCOB light engine module integrates the previous LED Driver with COB. Since the DCOB is powered directly by the AC power, it can be simply plugged into the power source to light up without the electrolytic capacitor. It improves the lifetime of the light source and increases the product reliability significantly, using the HV Chip manufactured by Lextar. Lextar Electronics' DCOB light engine integrates the optical and electrical components on a single module. It features small size, ease of use and improvement of lighting design flexibility, suitability for spotlight, down light or bay light fixtures. Lextar's DCOB series are compatible with Zhaga Book 3 specification to facilitate the lighting manufacturers in replacing the COB lighting source directly with no switching costs. In addition, Lextar can also provide customized services for the products from various customers.
Mr. Francis Wong, Deputy Vice President of Lextar Electronics Lighting Business Unit said that traditional lighting manufacturers are constrained by lack of technical personnel in the electronic/electric related fields. Thus, they often encountered photoelectric matching problems when integrating into LED. With the photoelectric integrated DCOB light engine, the lighting manufacturers simply need to add the lighting fixture casing to complete the assembly. That not only solves the technical problem of photoelectric matching, but also reduces the lighting assembly costs. The complete series of AC-in Driver-on-Board Modules includes a circular DOB for ceiling or flush light or downlight, DCOB for tracklight or spotlight, Linear DOB for streetlight or panel light, that are suitable for a variety of indoor, outdoor and different power lighting applications. The complete series of light engine has many characteristics including but not limited to one-piece compact design, small in size and long lifetime, to provide the traditional lighting customers with the most convenient application of LED photoelectric solution.
Back